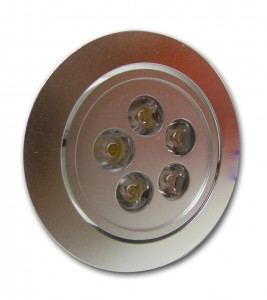 LED Lights, the future for all modern lighting, these LED items from Brightlightz, are of the highest quality and a perfect replacement for old halogen lamps.
Special Aluminium bodied units use 5 high powered LED's to emit the same equivalent of light as a regular power hungry 50w Halogen bulb, am amazing 80% + reduction in your lighting bill

They are ideal for use in homes, workplaces, etc as you require no special fittings, you simply cut a 75mm hole to fix the ceiling lamp into and then wire directly to your mains via the 12v transformer supplied connected to the lamp ready to go.
The transformer can also be disconnected giving you the option of using them with any 12v power source, ie : in Cars, Vans, Boats, Motorhomes, etc.
Unlike regular bulbs with a fixed viewing angle these ceiling lights are adjustable in either direction so you can shine the light in whichever direction you prefer.
The ceiling lamps only use  5w of energy saving you £100's each year on your electricity bills and will very rarely need replacing as they have a 50,000hr life, 10 (ten) years : "how's that for greendesign"      

This fitting is WARM WHITE (3000k – 3500k) and passes all UK safety regulations. As with all LEDER products these ceiling lamps are manufactured to the highest possible standards and include a one year manufacturers warranty.
Product Features :
5 Watt 12v HIGH POWER ENERGY SAVING LED CEILING LAMP UNITS in WARM WHITE
BUILT IN 230v – 12v DC TRANSFORMER / RECTIFIER
ADJUSTABLE VIEWING ANGLE: 30° IN EITHER DIRECTION
BUILT IN HEATSINK, 50,000HR LIFELINE, Approximately (10) TEN Years, 450 LUMENS. PRODUCT SIZE 100*90mm
SIMPLE TO INSTALL,  CUT A 75 mm HOLE THEN SIMPLY CONNECT UP THE WIRES

Consumer Review :


5 out of 5 :"Excellent value product. Provides a warm light, with a good 'spread' of illumination bright enough for general living space. I bought a trial pack of 10 bulbs after being really disappointed with a different product (which was duly returned). We are so pleased with these bulbs that we have just ordered another 2 packs to finish off replacing all of the lights in our home. Highly recommended!"

Date: 5 August 2014     Rated by Buyer: Alison.